The Travel Healthcare Conference
TravCon brings travelers together to create an informed community to empower and support you on your journey

Paris Hotel, Las Vegas Sept 22 - Sept 25, 2024
TravCon is the largest traveling healthcare conference in the United States. Every September, over 1,700 traveling healthcare professionals from across the country come to Las Vegas to participate in TravCon. 
TravCon is not only a conference, it's the event of the year for travelers. It offers many opportunities to earn CEs, hear from top professionals in the industry, network with like-minded travelers, and enjoy being celebrated and spoiled by our amazing exhibitors.
Connecting travelers since 2008, we are the leader in education for the travel healthcare industry. TravCon brings you the best and most knowledgeable individuals to teach you all things travel nursing and allied health. 
Meet almost 2000 other travelers who get you
Your mom, daughter, or best friend may have no clue why you travel this country from assignment to assignment, but we do! At TravCon, we guarantee that we can help you become a smarter, better paid, and more savvy healthcare traveler.
TravCon was founded by travelers who wanted to build a community full of caring, knowledge, and support. When you attend TravCon, not only do you learn about the travel healthcare industry, but you get to meet thousands of other people in the industry. Travelers just like you, who get what it's like to be a traveler. 
When you leave TravCon, you will be a more knowledgeable traveler who feels confident to take on your next assignment and work with agencies. You'll also leave knowing that you met people just like you, who understand you. You might even say "These are my people!"
Countdown to TravCon 2024
Affordable tickets, thanks to our exhibitors!
Exhibitors come to TravCon to meet you and they bring with them entertaining booths & lots of prizes! Their booth fee pays up to 70% off the real cost of your ticket. 
Your TravCon Ticket Includes:
To be celebrated for all you do as a traveling healthcare professional
Up to 14 hours of continuing education pending your licensing board (please ensure we are approved by your board if you want to collect CEs)
Presentations by the leading experts in the travel healthcare industry
Over 5 seminars on travel taxes taught by industry expert Joseph Smith from TravelTax
Networking events geared to connect you with your peers
An exhibit hall full of vendors that will help make your travel experience easier
BONUS, the exhibitors give away the best swag and you'll leave with many free gifts
Two buffet style breakfasts and a farewell brunch
Two buffet style lunches dubbed "better than the food at my wedding" by many travelers
A happy hour reception on Monday to network with travelers and exhibitors
The most legendary and epic AfterParty at Drai's nightclub in Las Vegas. Yes, we take over the whole club!
A chance to leave with lifelong friends who understand what it means to be a traveling healthcare professional
TravCon's 2024 Platinum Sponsors:
Travel healthcare can be lonely and confusing
Working as a traveling healthcare professional can be confusing and frustrating. Questions like "Am I getting taken advantage of?" "What is a tax home?" or "Am I going to be scammed on housing?" might go through the minds of the most experienced travelers. Often, you don't have other travelers to bounce ideas off of. Or, you asked for advice online and are not sure if you are really getting solid answers. A lack of knowledge around the travel industry and how it works could be costing you time and money.
Let TravCon help you be a confident traveler, with a strong community of support.
What travelers are saying about TravCon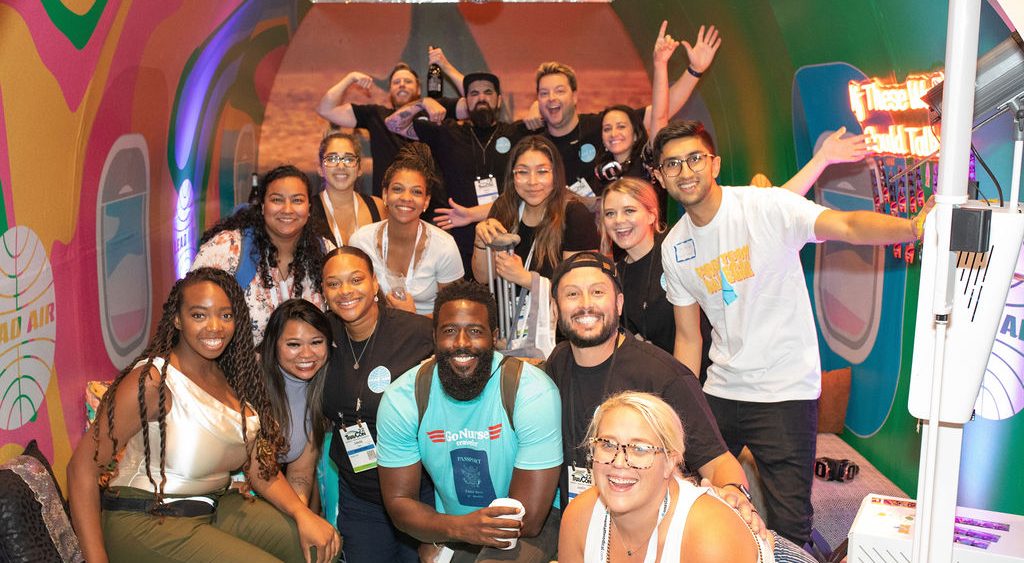 "I LOVE meeting travelers face to face, hearing their stories, and networking with everyone in the travel industry!" ~Travis S
"I have as much information as possible before I start to travel. LOVE THE INFORMATION HERE!" ~Kari B
"Where else can you be around people who actually understand what you do and why?!" ~Nicole R
"First TravCon was a blast! It felt surreal being around likeminded souls. Everyone I met was so kind, open hearted & genuine. I made amazing friends & connections and I'm very grateful. I already can't wait for next year." ~Ashley L
Looking For Travel Nurse Jobs and Housing?