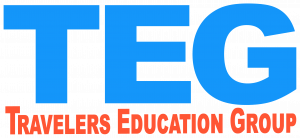 TravCon partners with 
Travelers Education Group (TEG)
to give back to our community!  
Travelers Education Group grants up to twenty educational scholarships (each up to a $3000 value) to healthcare travelers every year. Many of you are working hard to advance your education through Bachelor & Master programs, and we are here to help!
Deadline to apply: Nov 1st
   1. Be a current student in a Bachelor, Master, Doctorate or Bridge program in healthcare.
   2. Have worked as a healthcare traveler in the year of your scholarship award.
   3. Medical Mission trips may be considered in lieu of education awards.
          * Minimum 2 week duration in year of award.
          * Proof of payment required after completion of mission before award is paid to recipient
          (canceled trips will void award)
1. A professional bio and future goals.
2. Proof of a recent travel assignment 
3. Explain how traveling has impacted your career.
4. Tell us why we should pick you! Do you support healthcare travelers? Support the traveler community? Volunteerism? Mission trips? Online participation in mentoring others? Do you have a personal financial need or family considerations that would be eased by receiving this grant?