Author: Heather Marshall, DPT
Some sentences people may have heard me utter over the last 5 months…
"No don't eat that."

"Ew stopping eating that".

"Stop licking me I can't breathe!"

"This is not a Gypsy toy… THIS is a Gypsy toy."

"Listen, I know you don't like it but that's the rule."

"Get over here, I know you can hear me."

"Well… I needed a new one of those anyway,"
Owning an intelligent breed dog is both a blessing and a curse. That dog will learn something even quicker than you think you're teaching it to them but they also will know how to get one over on you if you slack up. If you've never been around a herding dog just know that they are most likely smarter than you. They don't know that right away, though, so try not to let on.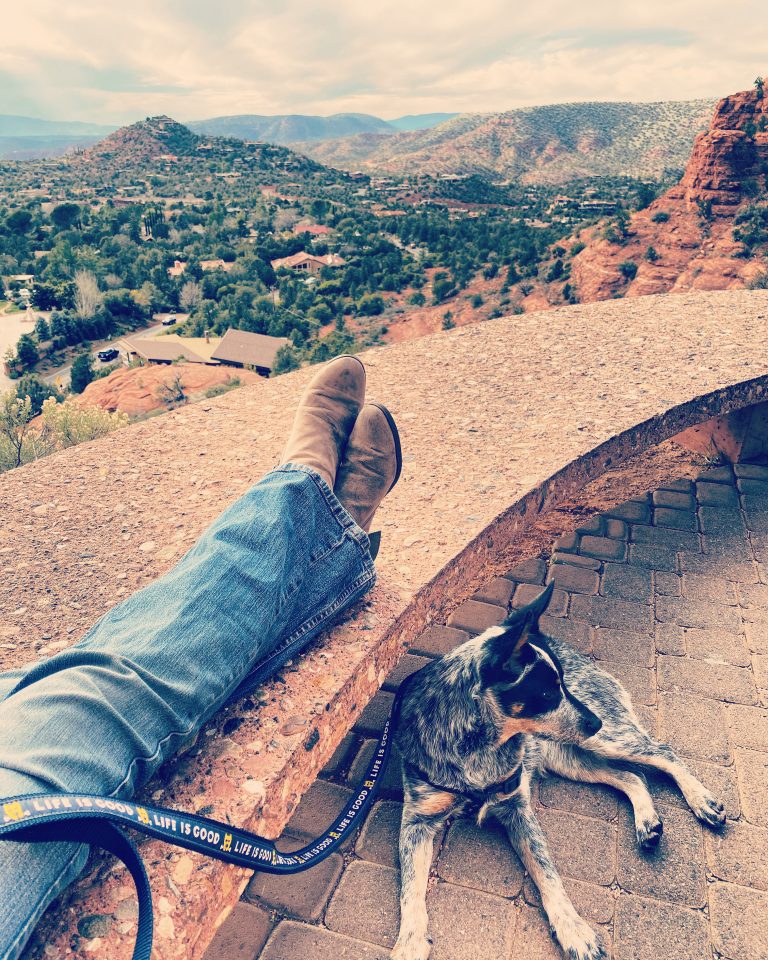 Owning a dog is a lot of work, most people will agree on this. Bring in a highly intelligent, highly energetic puppy to an already chaotic traveling lifestyle and I hope you take your vitamins because you'll need a lot of energy to keep up!
Regardless of the breed, owning a dog of any age while living the crazy travel healthcare life can be a bit intimidating to navigate. Hopefully I can give you some tips and learn from my mishaps as I've been learning!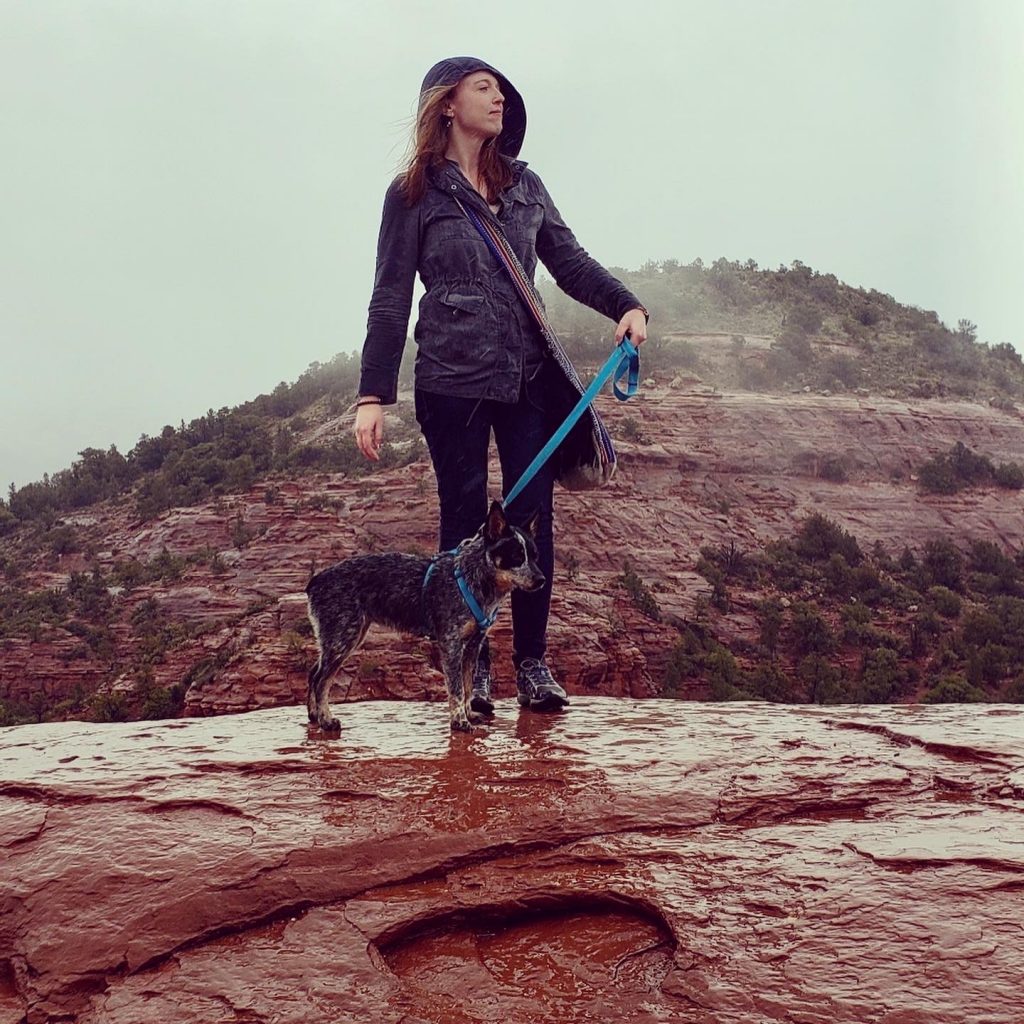 I picked up Gypsy (unnamed at the time) thanksgiving weekend on my way from a contract in TN to one in Arizona. At 10 weeks old, she buried her head in my jacket and gave me these sassy eyes that made me 100% certain this dog was for me. And let me tell you, she has sassed me over these last few months. It's like I'm training a 4-legged version of myself. We drove across the country and even though she was probably terrified, I knew she trusted me just by the way she looked up at me every now and then. We pulled up to my little walk-up studio apartment in the mountains of Arizona right after a freak snow storm at 10pm and the adventure began…
 If you're thinking about getting a dog as a traveler, try to do it in between contracts. Especially a puppy to make potty training a lot easier for you both so that you can get in a good routine. I suggest at least a week to spend with the dog, more if you can. Consistency is key. Do not get lazy or let up or you will have to start back at square one. 
On the topic of working as a dog owner, if you will be at work all day and don't have anyone to check on the dog it's important to get someone. I found an awesome dog sitter on www.care.com and she came every day and spent an hour with my pup which made a huge difference in potty and crate training. It let her get some energy out and gave me peace of mind. There are also apps like Rover (which I use now at my new place in TN) and Wag
Crate training right away is key as well. I found this guideline

very helpful and you could probably use it for a full grown dog as well. Although I was hesitant to enforce the crate training because I felt bad, after months of just letting her have the run of the bathroom while I was at work, even with a dog walker, I wished I had just crate trained her from the beginning. Let's just say I spent 20 minutes every day cleaning the bathroom after work and lost quite a few shower curtains (her vertical far exceeded my expectations for such a small pup). I also wished I had started crate training earlier because I let her sleep with me for the first few weeks and ended up having to wash the sheets every night. Straight up was not having a good time. 

 Puppies, especially these ones, have WAY more energy than you think and if you've never raised a dog from a small puppy, you're in for it my friend! Dog parks and hiking will be your allies or at least a couple daily walks if that's not your thing. I took Gypsy on a couple of hikes with me at 5 months old with some friends and she went 5 miles with us total up and down the boulders of Arizona and she didn't even get close to tiring out. She was often ahead of me on the trails and scaled 45 degree angles without even thinking twice. She has no fear. If you weren't that active before getting a puppy, be prepared to be! Unless you want everything you own to be chewed up in the evenings because that's the only way that puppy will know how to get its energy out if you don't help it. 
 As far as housing goes, it is definitely more difficult to find places as a traveler with a dog but it's possible. I know most places will say they don't allow dogs especially airbnb, etc. but I always message the host anyway to see if they would make any exception. Especially if you have a smaller dog and most especially if you mention your dog is crate trained. Sometimes it depends if the host has other animals they are concerned about or just doesn't want dogs on the furniture, etc. It never hurts to ask! You will get much more search results if you don't filter out the "pets allowed" option and just talk to the host. Usually they are pretty accommodating or may have other properties you can use. 
 Make sure you set up a vet ahead of time when you know where you're going next so you don't miss any meds. Don't let it sneak up on you! (like I did… woops… chronic procrastinator over here).
Possible Added Expenses When Traveling With a Puppy
Pet deposit/fee for housing. This could be up to $300 depending on the place)
Supplies: food, training treats, bowls, leash, harness, toys, grooming supplies. Consider doubling the budget for toys if you've got a chewer like me. She ripped through a toy made out of a firehose. With puppy teeth!!
Vet visits/shots and medications This can range but I was able to get her first dose of flee and heartworm for free at the vet I found. I would budget about $200 to be on the safe side depending how many shots they still need when you get them and if first round of meds are covered or not. Then from there monthly meds for flea and tick can range around $50-$60/month but more for bigger dogs. This is also highly dependent on the vet. I've had dogs before and some vets are outrageous for meds and others are super cheap.
The Big Picture of Traveling with a Puppy
I've had alot of adventures over the last couple of years as a traveling PT but this was a whole new thing I thought I was prepared for. It turned out being ALOT more work than I anticipated. Everyone told me it may not be a great idea with traveling to get a puppy. That it was going to be a lot of work. That puppies have way more energy than you think. I heard them. I listened. I said "yeah yeah I got it." And I did it anyway (shocker). 
Turns out this little nugget drives me absolutely bonkers daily but I cannot imagine my life without her now. She's brave, sassy, protective, loyal, and not afraid to speak her mind. She's got a side eye that rivals mine. I basically got the dog version of me. She might eat all my socks but she knows when I'm feeling down or anxious even before I do and plops right down on my chest before I get the chance to realize why.
She's been a great companion for me and a lesson in patience, discipline and unconditional love.
So the question is: can you get a puppy while traveling?
Yes.
Should you?
That depends on how much time and energy you're willing to give, especially in the beginning. There were times I declined invitations to hang out with coworkers in the evenings because I knew she had been in the crate for most of the day and I didn't feel right coming home to let her out just to put her back in it again. 
It is very rewarding when you have a trained puppy on your hands that comes when you call (most of the time) and sleeps through the night without peeing on your sheets. But it's an incredible time and energy commitment. I suggest weighing the pros and cons for your lifestyle and ask yourself if you think you can dedicate everything the dog/puppy deserves. 
Happy traveling from Ging and Gypsy ☺ 
Author Bio: Heather has been a physical therapist for 2 ½ years  and traveling since graduation. She worked in several settings including outpatient, inpatient rehab, and skilled nursing facilities. She has taken contracts in MN, NY, VA, FL, MO, TN, and AZ. Currently, she is back in TN working PRN. Heather has been to TravCon twice now and both times have been phenomenal! She started a blog to document each contract and all my shenanigans of her travels… www.gingerwanderer.com.