When it comes to finding short term housing as a healthcare traveler, there are a plethora of ways you can make it work. From RV life to extended-stay hotels, to renting a room in someone's home each traveler will probably have to experiment a bit and figure out exactly what works for them. 
If you have spent any time browsing short term rental sites like Furnished Finder it may seem like a lot of the private spaces are more expensive than most travelers could afford. These are usually full-size homes, often with amenities like an actual yard or a garage. While this type of space seems like a traveler's dream, the price point makes it seem unattainable for most. One way to be able to enjoy a larger, more inviting space while also saving money in the long run is to consider finding another healthcare traveler or two to share a home and split the rent. 
While living with roommates you have just met or have only talked with online may seem intimidating, there are several ways to make this process easier and a little less scary. 
Network with other travelers at the Traveler's Conference and be sure to keep in touch.
The conference is a great way to actually meet and spend time with other travelers from all over the country. As a traveler having a network of other friends who understand the job is helpful for long term success. Plus, it could open up opportunities to share rent or be connected with someone else who would be a good roommate in the future. You will likely feel more comfortable going into a three month living situation with someone you have had the opportunity to spend a little time with in person.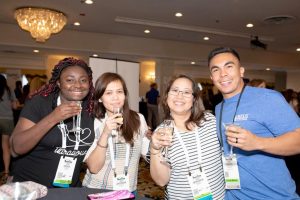 Stay active in online traveler communities.
There are a lot of great groups for travelers on Facebook. Some of these are housing specific, others are geared toward specific fields or specialties. These are great places to virtually connect with other travelers and start to build that network I mentioned before. I encourage you to pick two or three groups to stay somewhat active in. This will make your name more familiar to others posting in the group and could also help you find people willing to rent a larger home together if the timing is right. 
Be open and honest about habits, expectations, and boundaries.
Do you have a boyfriend coming to visit on assignment?
Are you fine with a little clutter or do you need the space to be spotless most of the time?
While you won't be living with your traveler roommate forever, it will be a nicer experience if you have these conversations ahead of time so both parties can be as comfortable as possible. Admit to the small things that could potentially cause a rift (we all have them) and make sure you can handle a few habits that may not be your favorite from your living partner.
Consider drawing up a contract specifically to protect each individual.
While you will likely have some sort of contract or agreement between yourself and the landlord, it might be nice to have the extra security to have an agreement between roommates as well. This would be helpful if someone's contract gets canceled or if there is a deposit that needs to be handled. 
Look for traveler groups local to the area you will be working in.
If you are having a hard time finding someone to split housing within your area, consider searching Facebook for "(X City) Travel Nurses". Even if you aren't specifically a nurse, this will help you find other healthcare workers who will be looking for housing in the same area. This could be a great place to post asking for a roommate if you are more willing to go with the flow and live with someone you don't necessarily know. 
While sharing a home with other travelers requires you to be open minded and perhaps a bit more laid back, it can also be a great way to meet new friends and combat loneliness while on assignment. By living with people who work in a similar field you will have people to talk to and spend time with right away. Plus, you could end up with a much nicer short term home for the price. 
Alex is a pediatric travel nurse and the content manager of Furnished Finder, the leader in affordable travel nurse housing, and is part of a travel healthcare duo. As a travel nurse and physical therapist, they have been able to enjoy different areas of the country thirteen weeks at a time. Click here to read more articles from Alex McCoy.