When I first became a histotechnologist, I never imagined going to so many places. As a traveler, I employed my skills all over the country. I went from my home in Michigan to New Jersey to California, and so on. I had so many adventures, and I gained valuable experience. It was easy to do on my own or with my husband. I thought having children would end my traveling career. However, I was able to manage motherhood amidst traveling as a tech! I'm here to teach you how.
There are a few considerations to make before you decide to take on traveling as a parent. First, your package- location, housing, and per diems, must be suitable for your situation. Secondly, you may need to find childcare. Subsequently, you may also need to continue schooling your children while on assignment. All these factors play into making an ideal assignment for you and your children. Traveling as a professional with children is a challenge but superbly rewarding if done right.
Every job package looks different for each person, and this holds true for traveling parents. The ideal location, housing, and per diem options are different depending on the age of your child(ren). Before searching for assignments, I let my recruiters know I would be traveling with my one-year-old daughter. This allowed me the upper hand in tailoring my assignments and avoiding my recruiter's persuasive rigamarole.
I only wanted drivable, "close-to-home" assignments; in case of emergencies, I was less than twelve hours away from home. My first assignment was two and a half hours from home Additionally, I knew flying would be difficult with a toddler. By taking my car, I had my child's car seat and more space for luggage- an obvious asset. My Ford Fusion was crammed with a stroller, portable crib, toys, backpacks, and suitcases before each journey. 
I chose to select the housing stipend instead of taking company housing. Packages that provided housing didn't work for me. I didn't want a tiny hotel room with my noisy child. A couple of nights on our outbound journey was enough! Therefore, I utilized Airbnb or VRBO sites to find an entire apartment or house to use during my assignment. Plus, it brought the added benefit of a full-size kitchen too, which helped me stretch my per diems. 
The money I saved by choosing my own housing went towards a grocery delivery service. By utilizing a grocery delivery service and resolving to cook my own meals, I fed my family economically. It's a great bonus that will save you time and lets you select the "easy button" of delivery. Plus, there was food in the apartment when I (and the car) was not there for my guests, child, and nanny. We were able to settle in and enjoy our "vacation."
When applying and interviewing for jobs, I made sure to negotiate a work schedule that would be adequate for exploring during the days with my children. I was able to go to aquariums, malls, and other tourist locations since I negotiated every work schedule. As a histotechnologist, which is a desired and limited entity, many managers were willing to work around my schedule. This is to an extreme value when you are traveling with your children, and you will need childcare. 
Before accepting an assignment, I explored my childcare options in the area. The good thing is no matter where you go, you have options.
Daycares and day education programs are among the top sought after childcare options, and that's where I started too. With a simple Google search, I found daycares near my prospective jobsite and near my temporary home. I called a few places to see if there were openings and check prices. To my surprise, I found a few that were relatively inexpensive, highly rated, and possessed an opening. 
If you decide to go this route, I suggest booking a tour to fully explore this option. It's a good idea to set yourself up to have a few days to a week before your assignment starts to lock in your childcare. If you are having trouble finding options, it never hurts to ask the prospective manager of an assignment. Most of the time they are a knowledgeable resource. Below I listed some other places with childcare all over the country for you to consider.
The YMCA: They have early education programs and camps, and they have locations all over. Additionally, if your assignment is over the summer, camps are a great way to keep you kids entertained while you work. 
The Goddard School: This was the early childhood education center I was looking at when I was searching for childcare before my assignment in NJ. They have several locations in all the big cities and all over the country. 
Care.com: This website is amazing for helping parents find childcare in their zip code. They can help find daycare centers, nannies, and after school sitters. I have personally known several nannies that have used this to find jobs.   
As mentioned previously, one of your best options is to negotiate a work schedule that works around your childcare. My first assignment with my daughter, I worked 4-day weeks, in the evening, and from Friday to Monday night. I was two and half hours from home, and I was able to travel back home each week. So, I had my mom and husband watch her while I worked. 
On my subsequent assignment, I was twelve hours from family. After exploring all my childcare options, I opted to take a nanny (my sister-in-law) with me. A live-in nanny is more affordable than most people think; living expenses become part of their pay. Most of the time, you are paying these expenses for yourself anyway. I had an extra room for my nanny in the apartment and groceries delivered to my door. My nanny only needed to buy incidentals for herself.
Additionally, with a live-in nanny, work schedules are easier to work around. When we went to NJ, I was able to work an early morning shift or midnight shift on short notice. I didn't have to worry about when a daycare center would open- most don't open until 6am or 7am. Moreover, my nanny was available to help me during the day if I needed an hour or two to nap. 
Whatever option you choose with your childcare, be smart about it, and use judgement when picking sitters. Research, tour, and read reviews of daycare centers. If you take on a nanny, write out a nanny contract with a set schedule for your kids. Also, provide non-screen and educational activities for your kids to do during the day. Providing educational outlets for a child is important even if they aren't school-aged.  
If you happen to have school-aged children, one of your biggest considerations will be their education. Once again, you have options. I would suggest making a plan that will be consistent over a school year period. Most assignments are a minimum of three months, but you can also be offered an extension. However, extensions are not guaranteed, and I would highly suggest discussing assignment lengths with your recruiter contract acceptance.
If you travel part-time, you can always negotiate your contracts in the summer months. This will allow you to keep your kids in school wherever you call home. Plus, you could find summer-long day camps for them to take care of childcare. However, if working three months out of a year is not feasible, here are a few more suggestions. 
For full-time travelers, you can combine your childcare and education options. For example, you could take on a nanny that could also double as a private tutor. I don't have first-hand experience with a private tutor. When I did my research, I found the average price to be exorbitant (up to $85/hour). I implore you to do your own research, but this will not be an option for all traveling professionals. 
One option that most of America is exploring right now is an online education. With the way technology is advancing, online education is growing at an exponential rate. There are many programs from preschool to college, and many of them are reasonably priced. Here are a couple of elementary to high school options that might work for you:
K12 – This is a popularly advertised online public school option for children kindergarten to 12th grade. Bonus, it's tuition-free, as long as you have a reliable wi-fi network. They also have extracurricular offerings too.   
Time4learning – They offer several subjects to assist in homeschooling dependent on the grade level and subject. You can easily customize a plan for your child's abilities too. The cost is a monthly subscription, and there is an online community for children and parents.
When I took my first travel assignment, I was an online learner working towards my Master's in Public Health. After my sometimes long overnight shifts, I spent my day reading and writing. Each week, there was a slew of different curriculum to complete. I utilized libraries around my location, online resources, and my online professors. It took time during my first couple of classes to get into a groove with my schedule. 
Although, my experience may be different than a younger student, I do think most online learning requires the same attention. If you choose an online program for your child, you should consider the amount of time. Also, be patient with yourself and them as you navigate through lessons. Use other people that have gone through it before and make it fun rather than stressful for your child. After all, traveling should be an adventure for all parties.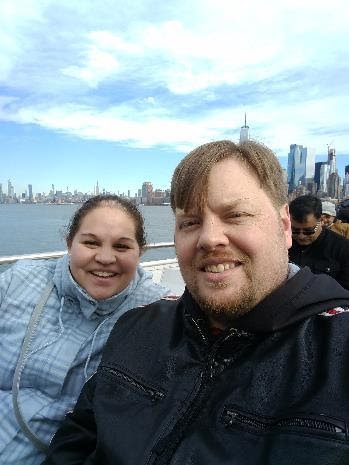 My final word on the matter of traveling as a professional, I urge you to safeguard the emotional and physical health of you and your children. I think anyone can do it if you take the time to find enjoyment. Yes, you have to work on the assignment, but you'd have to work if you were back home too. Therefore, I encourage you to spend time making it count.  
Below are just a few pictures of my family while in NJ. I took the assignment with my daughter and her aunt as her nanny. Our adventure out there and back was filled with lots of sights. We were located less than 45 minutes from New York City, so we spent time exploring the city. 
About The Author
Hi I'm Sara! I'm a seasoned histotechnologist with lots of experience working both travel and permanent positions. I'm a wife and a mother to two beautiful children. I love traveling, and I want to encourage others to do what they enjoy! You can find me on Instagram at https://www.instagram.com/saraslittleblog/