TravCon 2019 is a wrap!
Another TravCon is in the books and this one was better than ever! TravCon 2019 boasted over 1,400 attendees, two keynote speakers, and a newly introduced after-conference social hour on Monday.
All week, travelers arrived in Vegas and participated in pre-party events such as golfing, hiking, and wine tasting. The week leading up to TravCon has traditionally been a time for friends to reunite and enjoy time in Vegas. Sunday was the official start of the conference, with newbie boot camp, medical intensive Spanish, and other day-long courses.
Monday was truly when the conference went into full swing with the opening of the exhibit hall, courses, and a kick-off keynote speaker, the amazing Nurse Blake, thanks to our speaker sponsor, Liquid Agents. Nurse Blake delivered an incredible keynote speech with humorous, relatable content that left the crowd inspired to pursue their passions.
Exhibit Hall
The exhibit hall opened on Monday and was abuzz with talk, swag, and interactive booths. The exhibitors truly went above and beyond to make their booths memorable and engaging to travelers. From Instagram-worthy backdrops to therapy dogs, the booths were top-notch this year. Thank you so much to all of our exhibitors who made the exhibit hall such a fun and interactive place!
Sessions For The Win!
The educational sessions were some of the showstoppers this year. In years past, TravCon received feedback that the sessions were often repeats and that the conference lacked new content. This year, TravCon introduced 80% new content material and the feedback from participants was very positive! 
New hit sessions included topics such as photography, health and fitness, and working abroad. All-time favorites, such as tax talks from the leading expert in traveling taxes, Joseph Smith, were also well attended and received. 
Allied Health In House
A record-breaking 250+ allied health professionals attended TravCon this year! WOW! From therapists to radiology to the laboratory, there were all disciplines of allied health professionals in attendance. The first-ever "allied health" room had talks that specifically addressed allied networking and allied travel. 
Closing Keynote: Allison Massari
Allison Massari is a survivor. She survived a fiery car crash and years of medical treatment after being nearly burned alive. She closed the conference with a heart wrenching and inspirational tale of survival and the power of kindness and compassion. 
AfterParty at Drais
TravCon's legendary AfterParty at Drais nightclub was epic!

With full access to the club, travelers took advantage of the pool, cabanas, and VIP booths to let loose and dance the night away. While the party closed at 11 pm, some travelers spent the night on the town in Vegas with new and old friends. 
Brunch
Wednesday morning was the closing brunch from TravCon and the last chance to get some swag from our brunch sponsors and connect with other travelers. Many early risers waited in line for the door to open, and others trickled in right as the doors were closing. 
What Matters The Most
The true value of TravCon is connection. As travelers, it is easy to feel isolated and in a place that nobody else can understand. Our family may ask us, "When are you going to settle down?" and co-workers may wonder why we can't hold a "real job." We may feel alone and it can be hard to find our people out there in the world. 
TravCon is our place. It is our connection. Here, we don't feel shame for our lifestyle or questioned about when we are going to change. We are with our people, over 1400 of them! These people are the ones who understand our struggles and can connect on the deepest level.  We can connect in ways that we may not be able to connect with other people in our lives.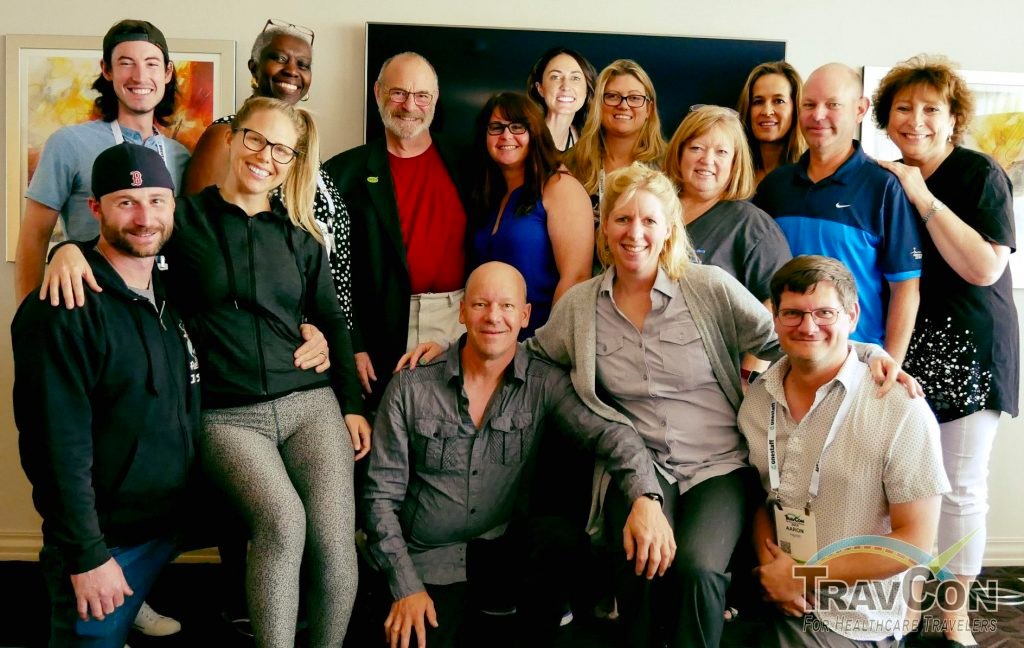 While the conference itself was incredible, the speakers were amazing, and the exhibit hall left us with a year's worth of swag, the true value and what matters most is in the people we meet. The connections made at TravCon can last a lifetime and can help us when we are on the road. 
Published 9-20-2019 by author Julia Kuhn. Julia Kuhn, MS CCC-SLP is a speech-language pathologist who has been a traveling healthcare professional since 2010 and serves as the media outreach coordinator of The Travelers Conference. She blogs resources for healthcare travelers at www.thetravelingtraveler.com